A Turducken is a roasted stuffed chicken/duck/turkey..
A terrine is a perfect way to blend these Christmasy birds and enjoy as a savoury starter. You can make it ahead and freeze in its raw state to make prep easier for Christmas events!
This is also FODMAP friendly but if you can tolerate it, add some onion and garlic.
1/2 bunch kale/silverbeet- blanched
500g turkey mince
250g duck breast- fat trimmed and finely diced
250g chicken breast- diced
1 tsp chia seeds mixed with 1/3 cup water then pureed smooth
1/3 cup dried cranberries
1/3 cup pistachios (if nut free use 1/3 cup pumpkin seeds)
Salt/pepper
Sage.
Line a loaf tin with blanched leaves so they overlap.
In a mixing bowl, mix the meats, chia gel, cranberries, seeds, sage and salt/pepper.
Scoop it into the loaf tin and then place more leaves to cover the top. Cover with baking paper, and then wrap tight with foil.
Place the loaf tin, inside a bigger baking tin in 170c oven and fill the baking tin with boiling water til 1/2-3/4 full. Cook for 1 and 1/2hrs.
Carefully remove from oven and place something weighted on top of the loaf tin and cool in fridge overnight before slicing.
Makes 8-12 serves.
Serve with fruit mince chutney and rosemary seed crackers and some green leaves.
Hope you enjoy this as much as I do!!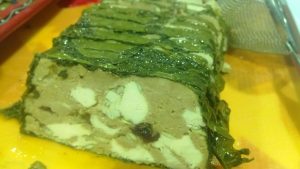 Happy Healthful Christmas